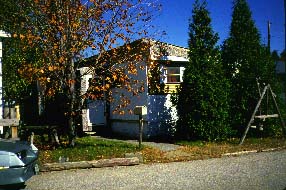 December 17, 7pm, Miller Center, Community Room.
Matt Cropp, and NPA past and present steering committee members Jeremy Ryan, Linda Pigeon, and Roy Colette, are putting together a panel to update the public on negotiations to preserve the unique affordable housing community at Farrington Park. Guests: Brian Pine (City Housing) and Sarah Woodward (CVOEO)
Come to learn about the challenges and to encourage the people who are stepping up to take control of their destiny. If you think that is an overstatement, come see for yourself. The property is assessed at $1.9 million, and it is for sale for $5 million. Residents, by law, have the right of first refusal. They have until Jan. 4 to notify the seller if they want to exercise it and begin negotiations to form a co-op to purchase the park or endorse purchase by a non-profit.
Refreshments will be served.
Dec. 17, 2015: The latest from residents is that they have collected 80+ signatures in support of exploring their options to purchase. S isarah Woodward of CVOEO Mobile Home Project is coordinating with residents to get their petition submitted to Rob Farrington and the Commissioner of VT Dept. of Housing and Community Development. They have until January 22

nd

to submit their petition.
Aerial photo of Farrington Park 1962.
Agenda:
6:45 - Mingle and catch up
7:00-8:00pm
-Welcome, Ground, Rules
-Introductions/Announcements/Speak Out
-
Business, elect CDBG* reps
-Discussion of Burlington 150th Celebration - Amy Barcomb
-Board for Registration of Voters - Linda Chagnon
-Reports from elected officials.
8:00-9:00pm - Update on the Farrington Park situation, Matt Cropp.
Featuring:
-Brian Pine, Assistant Director for Housing & Neighborhood Revitalization
-Farrington Residents, former NPA Steering Committee Members Jeremy Ryan, Linda Pidgeon, Roy Collette.
*CDBG - Community Development Block Grant Program Overview
Farrington Park residents
Neighborhood Planning Assembly
CANDIDATES ANNOUNCE THEIR PLANS
Candidates from the North End announce their intentions:
Kurt Wright (R), Ward 4 Councilor;
Jim Holway (D), Ward 4 Councilor;
Michael Ly (R), Ward 7 Councilor;
Jason L'Euyer* (D) W7 Councilor; Tom Ayres* (D) W7 Councilor.
Steve Goodkind (P), Mayor.
We are proud of ALL our candidates who step forward to serve. They are first and foremost our neighbors.

Note:

Dem Party will endorse either L'Ecuyer or Ayres at Caucus Jan 11. The one not chosen can always run as an Independent which has happened in Ward 7 before.
Jim Holway
Kurt Wright
Michael Ly
Jason L'Ecuyer
Tom Ayres
Steve Goodkind